30 May

Promenaden Galerien Linz Austria

The Skier, The Rider and The Connection at the Promenade Galleries in Linz, Austria
The Skier, The Rider and The Connection
At the Promenade Galleries in Linz, a Street art Project for Medienhaus Wimmer in Austria
Whatson had never used a staircase as a setting for his work before, which is what particularly appealed to him about this project.
In addition to the main work in the stairwell at Promenade 25, Martin Watson left two small works in the building at Herrenstrasse 6 and in the Promenade Galleries. Three works with a distinctive feature in common: each graffiti is located behind glass for visitors to be inspired by the artist's work.
Powerful imagery
Entering the galleries from the main entrance at Promenade 25, visitors are treated to a special sight in the historic staircase. There, Whatson brought the publicly visible wall to life with his calligraphic graffiti language.
Hidden Characters
The longer you look at Martin Whatson's work, the more details will appear, as well as the hidden characters in between. In this project, three hidden characters can be found around the gallery and inside the art:
The Skier
In the middle of a cosmos of colors, words, symbols and movement, the monochrome expression of a grayscale skier appears. The templates took a little over a week to prepare, but the idea for the motif was already smoldering long in Whatson. Only when the discreet skier has been discovered do the rest of the piece become a brightly colored snowy landscape and the apparently lost alpinist becomes a pioneer and adventurer.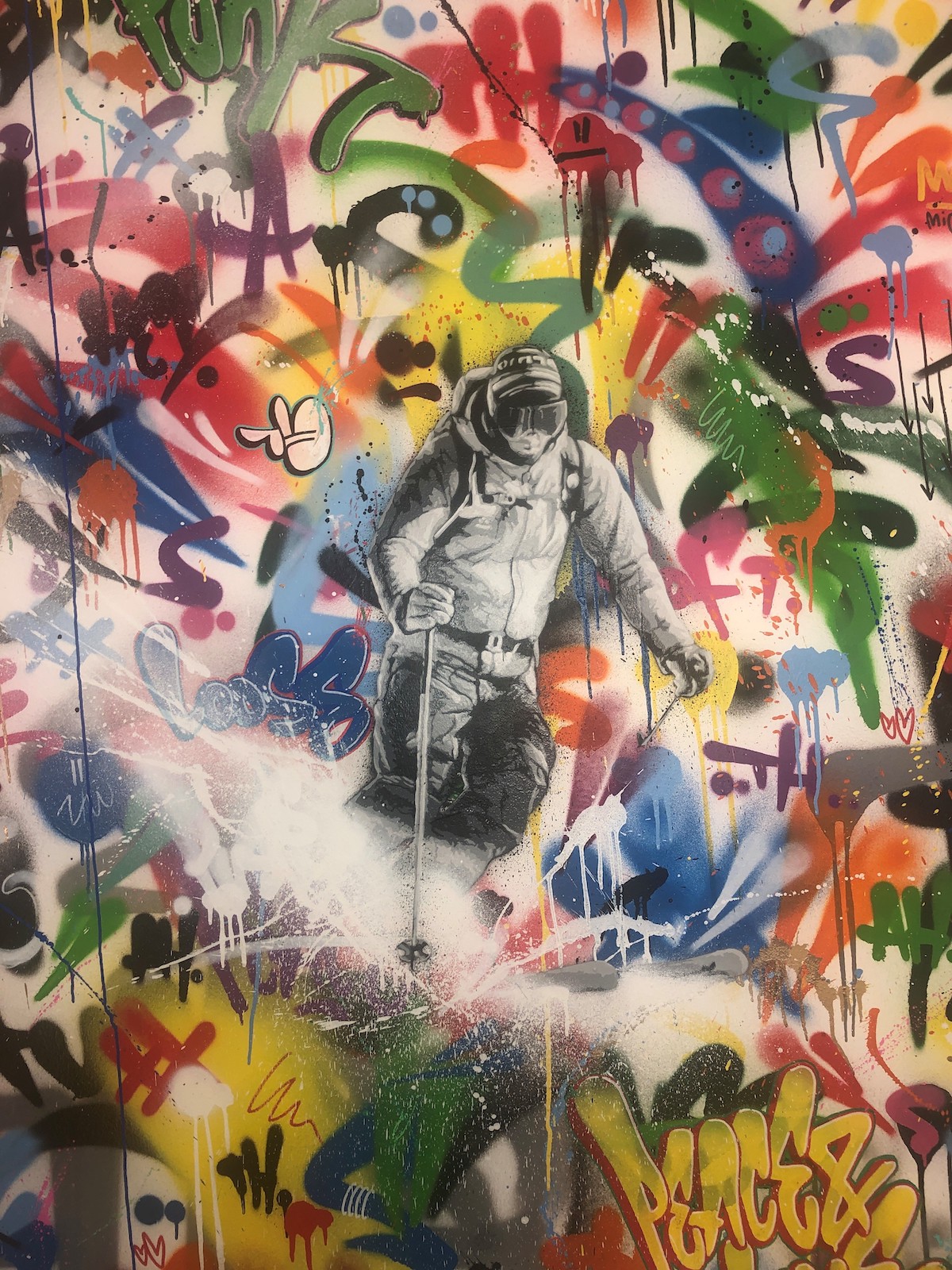 The Rider
The rider is a small piece of stencil and graffiti art, of a rider and a horse, a grey stencil piece finished off with colorful dynamic graffiti doodles. Placed on a pillar it produces a surprising effect of recognition and proximity for pedestrians passing in front of it.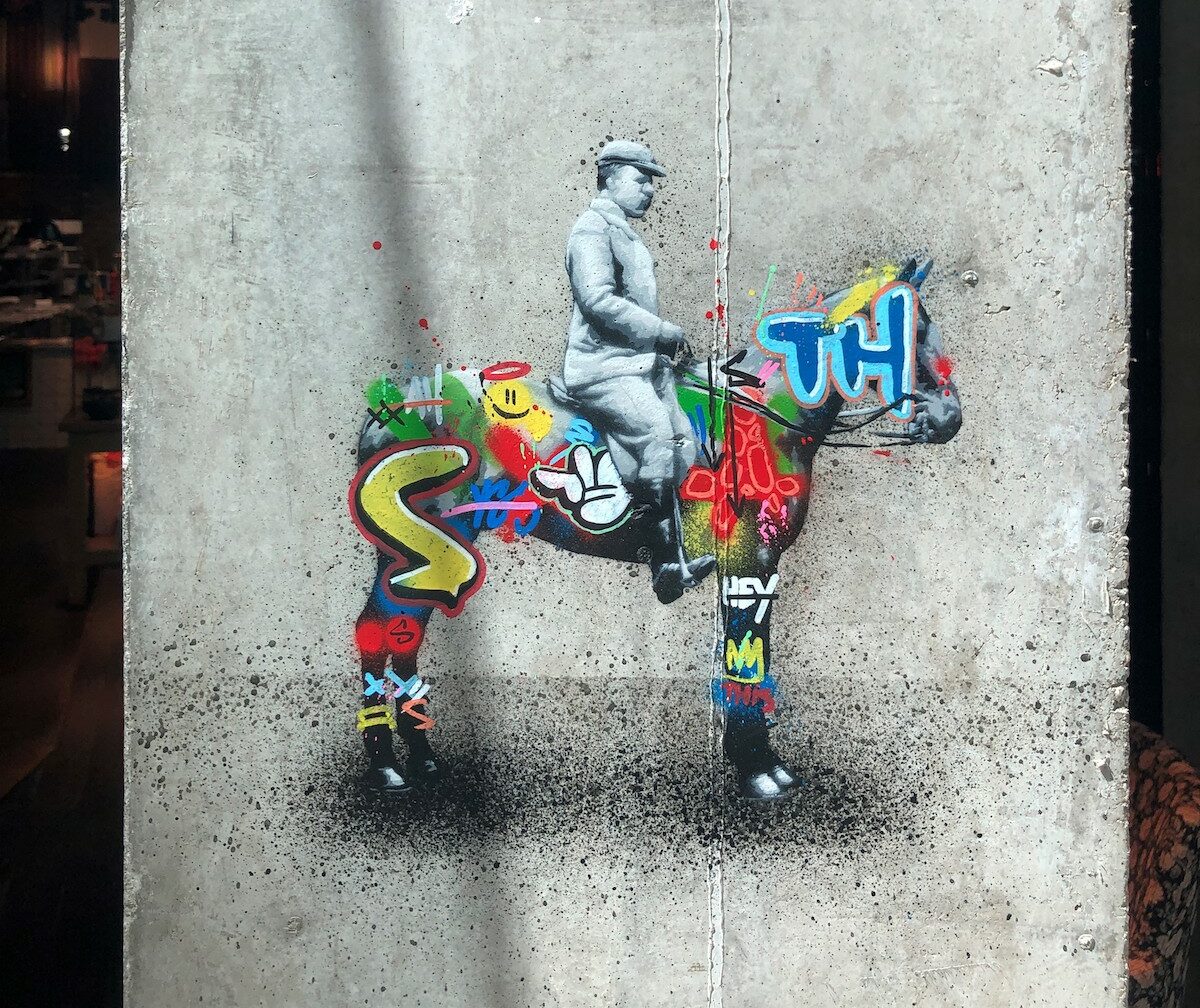 The Connection
The connection is the third small piece of stencil art and graffiti, surprisingly placed close to the floor and a second staircase in the Gallery building. The motif is one of Martin Whatson's classical's, to be recognized immediately by his fans and follower.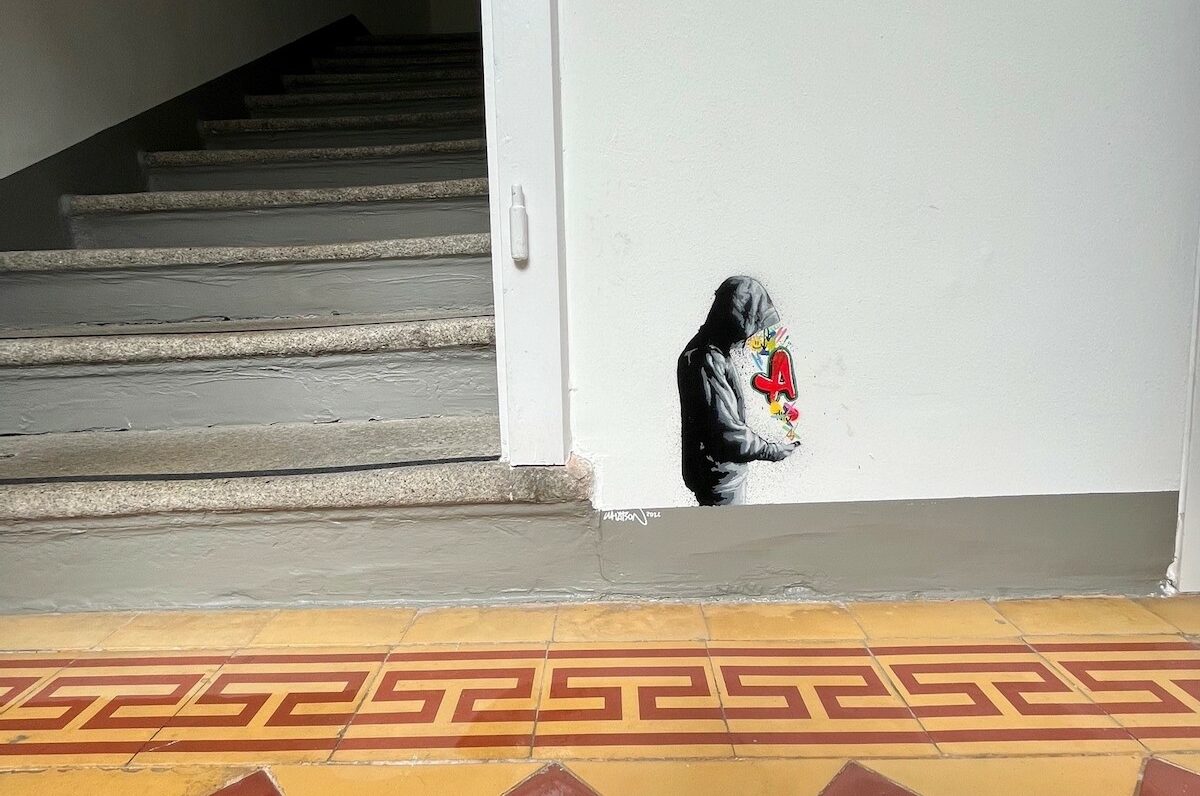 Temporal Photo Exhibition of Martin Watson's Street Art
When the wall project was finished, there was a celebration with the top cultural, political and business representatives of the city of Linz. The guests had the opportunity to meet the artist, and to exchange ideas with him about his career, works and working methods. Mayor Klaus Luger, City Councilor for Culture Doris Lang Mayerhofer, Linz Tourismus Supervisory Board Chairman Manfred Grubauer, Rector of the Art University, Brigitte Hütter, Mural Harbor Managing Director Leonhard Gruber, curator Klaudia Kreslehner, Georg Starhemberg, Peter Augendopler and other friends of the Promenade Galleries were all present.
The temporal exhibition in the galleries, a photo exhibition of 25 works by Whatson are currently on display for the public.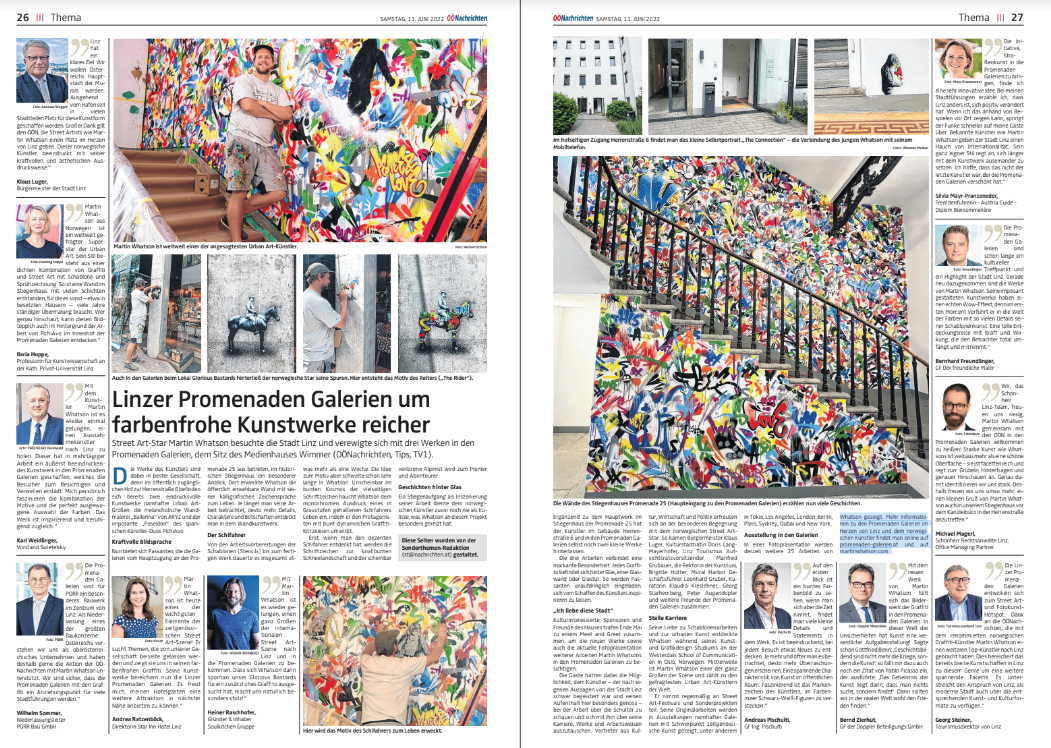 More information about the Promenaden Galerien in the heart of Linz at promenaden-galerien.at
Press coverage: